Meet Pierre, Harbour.Space@UTCC student, who uses AI to make a better impact in communities in need of clean water
Harbour.Space@UTCC proudly introduces Pierre Schwob, a Master's degree student in Data Science.  His team project "Well Well," an AI tool that helps communities find the best water location within walking distance and evaluates the minerals and chemical composition of that water, was selected as one of the Call for Code 2021 Global Challenge University Finalists for IBM's tech for good challenge taking on climate change.
Q: Please introduce yourself and your team members.
A: I was born and educated in France as an engineer, but from a young age, I was also fascinated by Asia's culture. I am already fluent in Chinese and nowadays I'm trying to get better at Thai. I spent the last 10 years in Asia already to pursue several business opportunities and enjoy Thai spicy food:) Over the years, I also got convinced that Artificial Intelligence would soon deeply modify our society, and that it could have a similar impact in the near future as the Internet had in the previous 20 years. Luckily, I found the Harbour.Space@UTCC Data Science program that offered me exactly what I was looking for, an education environment that was adapted to our rapidly changing economy, with a focus on new technologies and start-ups.
Even though I was the only one who submitted for the contest, it has been a team effort all along, and I want to thank all my fellow students, especially Adel, Carles, Hai and Mazen, for all the wonderful help on the code, the device building and the project in general.
And, of course many thanks to my teachers for all the good advice and mentorship! I personally really enjoyed the way of teaching from Alex Dainiak, because it was so rigorous and well prepared, that everything was crystal clear and understandable during the class itself, even when the topics were quite difficult to grasp. As far as our project Well Well is concerned, we had been struggling for weeks on ways to implement Machine Learning to find the best wells locations, and I think our discussions with Emeli Dral were really what made us click on what would be a good approach to tackle our Machine Learning system, so many thanks for that, it really helped us tremendously.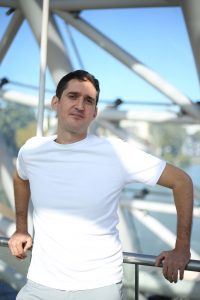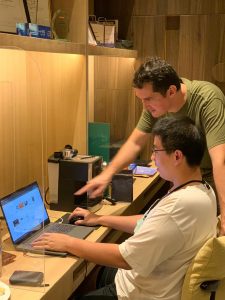 Q: Please tell us about "2021 IBM Call for Code Global Challenge". And what is your motivation to enter this competition?
A: Improving our impact on the planet has been an important question to me for many years. I know I'm far from perfect, and travelling once a year back to France to see my family is already a big chunk of my carbon footprint for the whole year. So, when I have a chance, I like to do a little something extra to help the environmental situation get better. When I was in France for example, I used to work for the Ministry of Sustainable Development, improving the call for bid process of the French State, in order to better take into account environmental parameters instead of only economical parameters. So, when I saw the 2021 IBM Call for Code Global Challenge, I immediately liked their approach and the opportunity they gave us to launch a project that could create some real change, because they gave us a chance to get our solution implemented in the real world.
Q: Why do you choose to focus on a challenge of accessing clean water?
A: Actually, me and my friends at Harbour.Space@UTCC, were interested in all 3 topics of the 2021 Call for Code challenge:
Responsible production and green consumption

Clean water and sanitation

Zero hunger
At first, we were really focused on recycling: we were discussing with an NGO in Thailand, and we would have been very excited to either build an AI system to detect trash in images of the streets for them, or to build an AI robot that could automatically separate paper, glass, plastic and cans. But we soon discovered that several startups were already working on those questions with great results, and we thought it would be more useful to work on a problem no one else was already tackling.
Also, access to clean water is a problem I experienced first-hand when I was living in Taiwan for 5 years. Even though Taiwan is a developed country, it is an island and its clean water resources are scarce. 3 to 4 times every year, when a typhoon hits the island, there is a big chance that you won't have enough water for the next few days. And just before the start of the Call for Code contest, earlier this year, rainfall was not enough. That has plunged Taiwan into its worst drought in 56 years. Struggling to ensure supplies, the government stopped irrigating more than 74,000 hectares of farmland. It has also turned off the tap for residents and businesses in three cities and counties, including one of its biggest municipalities, Taichung, two days a week for a few months. Can you imagine not having water at home for 2 days every week? I know many people in many countries all over the world have even worse conditions than that, and 8oo million people in the world don't have access to clean water today. That's why we decided to try to see if we can help do something about this huge problem, which is likely to get worse in the future with climate change, if we don't do anything to fight it.
Q: Please tell us about the solution that you have created and proposed for the competition?
As you know, millions of people in the world don't have access to clean water today. Some communities, especially in Africa, try to drill water wells, but they need help to know the best potential location before they start drilling. Why not use a little bit of AI to help them out? That's how our idea was born. We thought our machine learning and robotics expertise could help people find the best water well location in a more systematic and inexpensive way. So, we proposed a two-part solution to this problem:

The first module is a free web application that takes a single input, the GPS location of any point in the world. Using a combination of geological features map, satellite imagery and Machine Learning, this web application can then predict the best places to drill a water well within walking distance. It can be used on any mobile phone anywhere in the world.

And we also thought about the countless people who don't have access to clean water and also do not have access to a mobile phone or even to the internet, that's why we also added a second module to our project, which is a cheap portable device, costing only under 10 USD. This device can store some precomputed ideal locations for wells all around the world. It is able to detect the current GPS location of any user, and guide him or her to the nearest ideal place to drill a water well.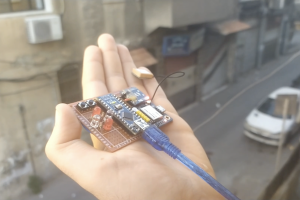 The scientific literature was already full of examples on how machine learning can help predict Groundwater mapping potential, using information available on maps like the distance to nearest river, the vegetation nearby, the soil composition and so on…But we haven't found any practical application to those findings yet. We believed it was time to bring those amazing ideas to life with a cheap and practical solution, because for people in developing countries, access to clean water can really change a lot of things.
Q: What do you think is the strength of your team's solution that makes "Well Well" advance to become one of the regional finalists?
A: A real good thing for us was to have people with very different experience and skills working on the project. As I mentioned earlier, we needed not only Machine Learning expertise, but also a good understanding of Robotics. Luckily, at Harbour.Space@UTCC, we have people with very different backgrounds. This is true in particular in the Data Science program, where people can have a wide range of expertise, going from coding to robotics, and to many different other fields too. We also have a startup mentality that we learned by interacting with other students from other programs, and this helps us understand how to not only focus on the technology we want to build, but also be very interactive with domain experts (NGOs, WHO, …) and users (mainly the local communities in Africa) to be sure we can build something really useful for them.
Q: What do you learn at Harbour.Space@UTCC that has been applied to this project?
A: Oh! so many things, actually we have been working on that project during literally all the classes in the second half of the year. The first part of the year was indeed dedicated to getting the necessary foundations for machine learning like Maths and Coding. But after that, the classes were more applied and focused on solving real world AI challenges. We used that opportunity to work on our Well Well project during all those courses: "Developer to CTO", "Neural networks and Computer Vision", "Deep Learning in Applications", "Industrial Machine Learning", "From data to knowledge: interpretation, visualization, presentation". It was really a blast to try a different approach to solve our problem in every class, and it was so exciting to see our project develop at the same time.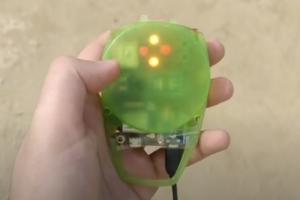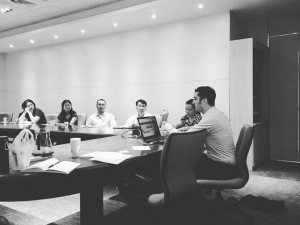 Q: How likely is it for your team's solution to be implemented to solve the challenge in the region?
A: Becoming a regional finalist for "2021 IBM Call for Code Global Challenge" has given us a lot of exposure in Asia and we are currently talking with several actors in Thailand about future possible implementations of our technology. The initial goal of our project was to use AI to detect the best location to drill a water well, but many other applications are possible, mainly for farming. Thailand is facing a big water scarcity problem, and with demand for food rising, our AI system could help farmers to find water underground and combat water shortages in vulnerable areas, especially during drought.
Q: What has been most valuable about going through this competition process?
A: The competition gave us just a tiny bit extra motivation to work harder on our project. You know, working in such a complicated and technical field as Machine Learning can be daunting at times, this stuff is not easy! It was nice to have a well-designed framework to work in, with a community around us, to give us an extra push in the right direction once in a while. Sometimes that's all you need. So, you can keep going just a little bit further and finally get the results you need.
Q: What is your thought on AI and the future of a better world?
A: What we see everywhere, is that in almost every field, a combination of domain expertise with a good use of AI leads to world class results. This trend is likely going to keep on for a while. This will probably not lead to the development of an Artificial general intelligence (AGI) like in the sci-fi movies anytime soon, but it will still lead to exponential increase of performance in many domains, where domain specific AI system will improve our lives greatly (self-driving cars being one of the most obvious examples that comes to mind).
Q: What tips would you give to other young coders/programmers thinking of doing good cause with their skills?
A: Oh, you will have many opportunities. For starters you can participate in next year's "IBM Call for Code Global Challenge"! We don't know what will be the goal of that challenge, but it will definitely be projects that address social and humanitarian issues. You can also join existing projects, like Well Well (we welcome everyone who wants to help!), or the other projects of this year's contest, they have many amazing projects, so I'm sure you can find some initiative you are interested in joining. More generally, you can join many Open Source projects: it can be a rewarding way to learn, teach, and build experience in just about any skill you can imagine.
Q: How do you see coding in the next 10 years?
A: We see more and more AI tools helping coders write good code. It is starting to look like we will soon be able to just explain what we want the program to accomplish in plain English, and some AI systems will be able to write the entire code for us! Does it mean we will all be jobless? I don't think so, I strongly believe coding jobs will just evolve and be more and more AI oriented, just like in so many other fields. Exciting times ahead for us!
Q: What is the future plan for your career? 
A: I don't really try to make a plan for my future career, as I am always adapting and looking forward to working on something exciting that can pick my interest, and who knows what this will be tomorrow. That being said, we would be really happy if we can pursue what we have started with Well Well one way or another, as this is a very nice project, technically of course, but also it feels really good to be working on trying to help the lives of millions of people.
Harbour.Space@UTCC is a successful collaboration between Harbour.Space University, based in Barcelona, Spain and University of the Thai Chamber of Commerce (UTCC). The two institutions share a strong determination to transform higher education. This academic collaboration attracts talented students who are motivated to learn from the best and to do their best to make a difference for our community.
Please visit Harbour.Space@UTCC for more information about the Bachelor's and Master's programs that can empower you to make impacts for our society.
# # #